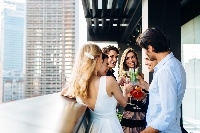 Date:
July 09, 2019 to July 09, 2019
Event Type:
Food & Dining
Festeggiate la bella stagione alla Terrazza Gallia con il format "Le Cene del Martedì", in collaborazione con Taste of Milano. Gli Chef Lebano creeranno un percorso unico che si snoderà tra ingredienti tradizionali di differenti territori Italiani ed eleverà lo Street Food ai massimi livelli.
Lungo tutto la serata saranno proposti anche ottimi cocktail, vini e bevande con abbinamenti studiati ad hoc dagli chef e dal Master Ambassador di Tanqueray per garantire un'esperienza di gusto completa e di altissimo livello.
Scoprite il menù >>