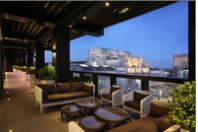 Date:
December 19, 2020 to December 19, 2020
Where:
Excelsior Hotel Gallia, 9 Piazza Duca d'Aosta, Milan, Lombardy, Italy, 20124
Event Type:
Food & Dining
Ticket Price:
75.00 - 75.00
We begin with a delicious epicurean offer on December 19th. The distinctive chance to taste in Milan two of the most iconic dishes that contributes to the fame of fratelli Cerea of Da Vittorio restaurant (Brusaporto, 3 Michelin stars). Starring role played by the award winning paccheri alla Vittorio, a tribute to our Mediterranean cuisine and the world-famous cotoletta, better known as Elephant ears (Orecchia d'elefante), a Piedmontese fassona, amongst their most loved plates. A focaccia and montanarine starter will pave the way.
Cost:
75€ per person
Learn more
:
https://www.terrazzagallia.com/
****
Si comincia il 19 dicembre con una proposta che consente di gustare a Milano due iconici piatti dei fratelli Cerea del ristorante "Da Vittorio" (Brusaporto, 3 stelle Michelin). I protagonisti che da sempre entusiasmano tutti i commensali saranno i paccheri alla Vittorio, un omaggio alla cucina mediterranea e la cotoletta, meglio nota come Orecchia d'elefante, una fassona piemontese, tra i loro piatti più amati. Entrambi verranno preceduti da un antipasto a base di focaccia e montanarine. Sarà disponibile anche il menu a la carte.
Costo:
75€ a persona
Scoprite di più:
https://www.terrazzagallia.com/it/